Welcome to Cox Brothers Roofing
HAVE YOU EXPERIENCED HAIL DAMAGE NEAR SAN ANTONIO, TX, AND NEED A ROOF REPAIR?
In Texas, it can be impossible to predict when the next hail storm will hit. After such an event, it's crucial to identify and repair any damage the hail may have caused your roof before the next bout of rain occurs. If you're concerned your roof may have sustained damage during the storms, our roof repair company in San Antonio TX can help identify the damage and repair it as quickly as possible.
Most roofing systems in use today are built to stand up to all kinds of weather, hail included. Since hail is one of the most common causes for roof damage, roofing material manufacturers often test their materials against various sizes of hail stones to determine the material's hail resistance on a scale from 1 to 4. In the real world, however, even a roof with the highest hail resistance rating is far from invulnerable to damage.
This is especially true in the long term. Minor damage can go unnoticed and worsen over time, finally reaching a tipping point after a large storm. If your roof hasn't been serviced in a while, it will be especially vulnerable to a hail storm due to the small bits of wear and tear that may have added up over time. It's important to spot this damage and get it taken care of before your roof starts to leak.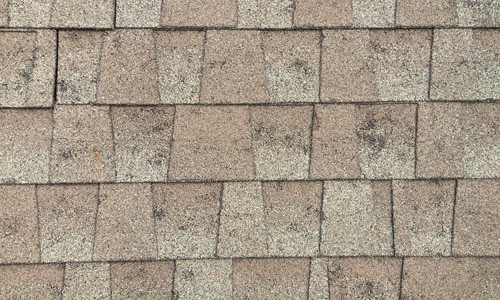 How do I know if I have hail damage?
Depending on the severity, hail damage can sometimes be easy to spot from ground level. If the impacting hail stones are golf-ball sized or larger, then you'll most likely see obvious damage to your gutters, siding, window shutters, and other parts of the home. In this case, you can be sure that your roof has also sustained damage, even if you can't obviously tell from a quick glance.
With hail stones smaller than a golf ball, on the other hand, the damage can often be impossible to see from ground level. Smaller hail stones may not leave any obvious dents or dings anywhere on your home, much less. The only way to tell for sure is to climb up onto the roof and inspect it up close, but this is never an advisable thing to do for anyone with tiled or shingled roofs. It's especially dangerous after a hail storm, when your roof may suffer from loosened tiles or even roof deck damage.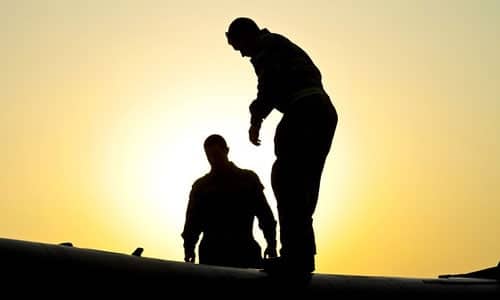 About our expert team
The much safer and more reliable option is to leave the up-close inspection to a reputable professional roofer who knows what to look for, how to handle the danger, and how to most efficiently repair any damage that may be present. At Cox Brothers Roofing, each of or experienced roofers is trained to safely conduct a roof inspection to determine the presence and severity of hail and other types of weather damage. With their expertise, you'll know right away how extensive or simple the repair job may be.
In addition to roofing experience, our team also has a wealth of insurance expertise. Read below to see how we can assist you when filing an insurance claim after a storm.
Q. "I noticed some shingles around my house after a storm. What should I do?"
Q. "Should I file an insurance claim for my roof work?"
Q. "My neighborhood was hit by a hailstorm but I haven't noticed any damage. Should I still get my roof inspected?"
Q. "What's the difference between wind damage and hail damage?"
Q. "My roof is severely damaged but it's after business hours, what should I do?"
Filing Insurance Claims for Hail Damage
Many homeowner's insurance plans cover hail and other storm damage to roofs. If you are unprepared, however, it can be difficult to determine whether your insurance covers the damage or if you even need to file a claim in the first place. There's no need to go it alone. Cox Brothers Roofing has plenty of insurance expertise as well as experience working with insurance companies to ensure your insurance claim goes smoothly.
Don't Wait Too Long
Most insurance companies give you at least a year to file a roof damage claim, but it's important to file sooner rather than later. This is because, if you wait too long, additional wear and tear may make it difficult to see the storm damage. As a result, your claim may be dismissed by your insurance company if you don't file quickly enough.
Don't Fall for a Scam
While timing is key, it's important that you do not rush too quickly into the process and fall victim to scammers. Storm chasers are common in the roofing industry—these are scam artists who try to take advantage of storm victims with promises of a "free roof replacement" or other things that are too good to be true. Avoid dealing with solicitors that come out of nowhere and stick to local roofing companies with reputations you can trust.
Don't Get Stuck Guessing
If you choose Cox Brothers Roofing, you won't be left guessing whether or not your insurance will cover the damage. Our team has a great deal of experience working with insurance companies, and we have a pretty accurate idea of what sort of jobs will be covered and to what extent they will be covered. Filing a claim isn't always the best option, especially if you have any claims-free discounts in your insurance plan.
Other Services & Home Improvements
Some of Our Other Service Areas:
From Cuero to Victoria, San Antonio, and more, our roofing company serves a wide range of towns and metro areas in south and southeast Texas. Follow the links below to see how we can use our expertise to help homeowners in your area.
And many more cities throughout South Texas.